NAVIGATE THROUGH CRUCIALBLAST.NET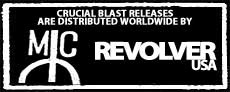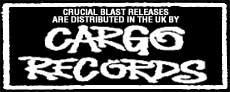 CRUCIAL BLAZE RELEASES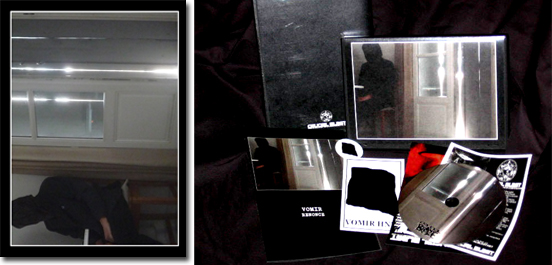 VOMIR Renonce CDR/BOOKLET

BLAZE04


THIS IS CURRENTLY OUT OF PRINT OR OTHERWISE UNAVAILABLE AT THIS TIME. PLEASE DO NOT ORDER.

TRACK LISTING WITH AUDIO SAMPLES
1. Renonce ::MP3 SAMPLE::

Now that the Crucial Blaze series of limited-edition disc/print titles is fully underway, I wanted to get moving with the most punishing harsh noise that we could bring you, which naturally led to French harsh noise master Vomir coming on board for this fourth entry in the Blaze series. I can't think of anyone else who better embodies the nihilistic aesthetic behind the Crucial Blaze line than Vomir, and this new set is as massive and brain-flattening as anything that he's come out with lately.
Renonce presents a single monolithic track of crushing noise wall, almost fifty-two minutes of absolute nothingness, just a seemingly infinite maelstrom of extreme low-end rumbling, severe unchanging distortion, crunchy oceanic filth, and abyssal static that Vomir forges into a primordial wall of black frequency chaos. Fans of Vomir's formidible catalog of releases should have a clear idea of what to expect from this. Total ego-destruction, an obliteration of awareness, of the self, of the present moment via pure suffocating noise, total immersion within the vortex, drawn in and crushed within the inescapable gravity of a collapsing star. The philosophy of absolute isolation and withdrawal that is found in most of Vomir's works is also explored in greater depth on Renonce, not only though the relentless tectonic crush of the recording, but also through the writings from Vomir mastermind Romain Perrot that are included here as well. A set of four original free-verse poems from Perrot are included here in an eight page booklet, printed in their original French language text with English translations overseen by Perrot and Crucial Blast; each of these pieces compliment the sonic nihilism of Vomir through ruminations on seclusion, silence, and a deep, considered distaste for one's fellow humans. A formal renouncement of social connection, and of human contact.
An essential set for enthusiasts of Vomir's ferociously negatory, skull-imploding HNW constructs, Renonce is presented in a plastic library case with full color sleeve art, in a hand-numbered edition of 250 copies. The package includes the eight page booklet of writings from Vomir, a vinyl Vomir sticker, and a 1" Vomir button.
REVIEW FROM MUSIQUE MACHINE: "Renonce" is the first major indie label release from brutal and unrelenting French HNW act Vomir, and thankful there's no sell-out or harmonic respite here. The fifty minute track on offer here is classic and pure sonic nihilism of the highest order- it's the audio equivalent of head-butting a wall of pure hopelessness, dispair and darkness, over and over again.
The Cd comes in a rather nice clear DVD case, and features a sleeve that takes in a colour picture of Vomir sitting in the shadows dressed in black, with his infamous black bag on his head. To his left is a door just showing tinny cracks of light, but of course none of the light is touching or nearing vomir- it's very, very fitting of course for vomir's philosophy of no interaction with society, and for the black, thick and brutal sonic emission inside.
Also the set comes with a eight page booklet that features five of Vomir's nihilistic and society loathing poems or prose- theses are printed both in their original French form and with English translation, and they add grim and depressive air to the already bleak sonics. There's also a sticker and badge inside the box too. This release has a rather large(for HNW) pressing of 250 hand numbered copies- which should widen the interest in Vomir's brutal sound art, and also bring more people to the HNW scene in genreal.
So onto the 51 minutes and 24 seconds worth of brutal and tar black wall-making inside. The tracks a fast 'n' crude 'wall' that mixers together fixed roasting & dark judders, with deep aquatic drone roars and blacked billows. There are also some muffled and shadowy semi-tones stalking the tracks thick and raging crusty like barely seen ( or heard) ghosts- theses only seem to appear the more you play this damned sonic canvas. Through-out the track is suitable suffocating, completely hopeless and truly unforgiving. Instead of Vomir lessen or softening his attack it seems to have become thicker, bleaker and more nasty-yet for all the tracks unrelenting attack there's something very compelling and grimly encasing about the whole thing.
So in finishing off "Renonce" is yet another fine example of intense, blacked and crude 'wall-making' from this French master of the form. Sure there's a few more copies available then most of his huge discography, but this is as unrelenting and unforgiving as anything else he's put out.