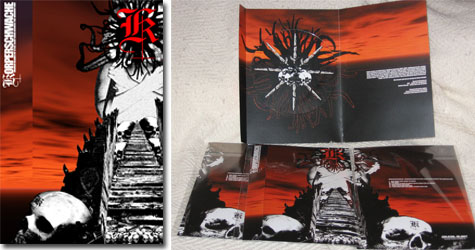 KORPERSCHWACHE Broken Blades Of Steel Scattered Across The Narrow Way CD-R
BLISS27

THIS IS CURRENTLY OUT OF PRINT OR OTHERWISE UNAVAILABLE AT THIS TIME. PLEASE DO NOT ORDER.
MP3 EXCERPTS:
Track 1: Nice girls (just want to fuck) Track 2: Red Wind ::MP3 EXCERPT::
Track 3: It's hard to sleep at night with a back full of knives Track 4: Who moved the floor ::MP3 EXCERPT::
Track 5: Blues for a dead doctor Track 6: Your arms are too short to box with god ::MP3 EXCERPT::

A thunderous new disc from Korperschwache! Broken Blades Of Steel Scattered Across The Narrow Way detours from the blackened machine-pulse hypno dirges that have appeared on recent releases on Faunasabbatha, Inam, and Public Guilt, and delivers a slab of heavy, instrumental drone/noise rock that builds even further upon the heavy influence of classic late 80's/early 90's NYC noise rock (and especially Band Of Susans) that has been juicing Korperschwache over the past seven years with six tracks of dense billowing reverb, atmospheric hypno-riffs and supreme guitar squall. The Burzum/Abruptum-esque blackness of the Ourobouros series on Crucial Bliss is absent here, and instead the music emerges as a lumbering deformed cousin of classic alt-guitar noise, huge open chords unfolding over shimmering distorted strings and multiple layers of vibrating amplifiers, with some sweet sun-scorched melodies swimming around in these lengthy riff explorations. Of course, it wouldn't be Korperschwache without the jagged, pounding beats of Doktor Omega, and each of these mechanical jams uncoil over a battery of thumping machine beats, cymbal-soaked motorik rhythms and even the odd unexpected breakbeat that kind of sounds like some spastic jungle has suddenly ripped it's way through the swirling clouds of drone guitar. I've been a big fan of Korperschwache's music for years now, and this is by far the prettiest, dreamiest music that Korperschwache has oozed out, but heavy too, a shambling, beautiful mass of hypnotic plod made up of pieces of Godflesh, Band Of Susans, My Bloody Valentine, and early Earth. This new disc is packaged in a full-color foldout sleeve and is limited to 300 copies.