NAVIGATE THROUGH CRUCIALBLAST.NET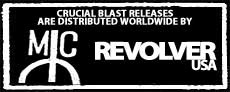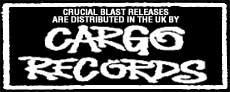 Crucial Bliss Releases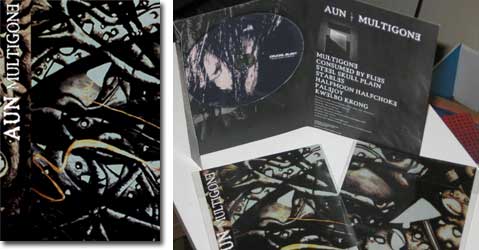 AUN Multigone CD-R
BLISS32
$6.50


MP3 EXCERPTS:
Track 1: "Multigone" ::MP3 EXCERPT::
Track 2: "Consumed By Flies" ::MP3 EXCERPT::
Track 3: "Kwelbo Krong" ::MP3 EXCERPT::
Montreal native Martin Dumais has been an active participant in the Quebecois underground electronic music scene since the early 1990's, beginning with the Industrial project Odds and continuing through to the French house/electro/disco hybrid Les Jardiniers and the techno project Juicebox. Over the past few years, Dumais has been engaged in a very different sort of project, the largely solo endeavor AUN. Using heavily processed guitar and electronics as his primary intrumentation, AUN generates massive post-industrial dronescapes and grinding machine-doom that is reminiscent of the white-light supernovas of Skullflower's most explosive recordings, the classic dark industrial ambient of Lull and Cranioclast, Troum's blissed out dream drones, and the blackened, formless amplifier sludge of Black Boned Angel and Sunn O)))'s 00 Void. I was introduced to AUN's music after Martin, a longtime customer at Crucial Blast, sent me copies of his excellent AUN CDs that were released on the ORAL label out of Montreal. As heavy and distortion/feedback-damaged as any of the more abstracted noise/metal magma that has been oozing out of Battlecruiser, Southern Lord and 20 Buck Spin, but coming from what is clearly a background rooted in Industrial and electronic music, AUN's mesmerizing, crushing and often quite beautiful music became an immediate new favorite.
After picking up AUN's Blackhorse CD on Oral to carry at Crucial Blast, we started working on releasing a full length that Martin had recorded called Multigone, which he thought would fit well with the Crucial Bliss aesthetic. This seven track disc is undeniably the heaviest music that AUN has created so far, a grinding, distorted soundscape that begins with the keening electronic drones and muffled, disembodied metallic riffing that becomes endlessly tanged in a nest of squirming low-end noise in the opening title track, and steadily ratchets up the heaviness with each track, until we come to the punishing "Palejoy", a bludgeoning Industrial metal dirge that has massive, Godflesh-like percussion fused to processed, almost synthetic sounding doom riffage, a black cloud of buzzing, ultra downtuned black dirge drifting over a muffled, slow motion breakbeat. In between, AUN erects vast walls of crumbling distortion and rhythmic guitar loops forged into apocalyptic ambient drift streaked with heavenly synth choirs and sweeping cosmic fx, crushing fifteen-minute blasts of immolating amplifier ragas formed from a nebula of melting woodwind sounds, distant elephantine tympani drums, hellish symphonies of rusted, scraping strings and celestial electronic whiteout that ends up sounding like something from Skullflower's Orange Canyon Mind but one hundred times heavier, and strange deep-space blues jam instrumentals with impossibly detuned guitar soaring through black holes of reverb and tape fluctuation.
This is seriously crushing stuff that stands out in sharp contrast to the hordes of amp-leaning feedback riders, and is highly recommended to anyone into KTL, Final, Black Boned Angel, To Blacken The Pages, K.K. Null, Aethnor, Fall Of The Grey Winged One, Fear Falls Burning, Hlidolf, Messiah Complex, and other heavy, textural industrial/ambient/sludge groups.
Multigone is packaged in the signature Bliss sleeve with full color artwork, and the disc is attached to the interior of the sleeve on a plastic hub. Issued in a limited edition of 300 copies.
REVIEW FROM JULIAN COPE/HEAD HERITAGE: I've also found Aun's cataclysmic MULTIGONE album highly useful these past two months, its vast showers of electronics blasting, nay, brutalizing listeners with a racket somewhat akin to the music of Fall of the Grey Winged One (AEONS OF DREAMS), Kabalist ('Shaman 262' from VERMICHTE DIE GÖTTER) or some of the more apocalyptic Israeli noise music (Pootchlatz, Barbara). However, I believe that those of you who choose to seek sanctuary within the chaos of the 15-minute burn-up of the synthetic brass-laden 'Steel Skull Plain', will gain considerable meditative comfort. Sitting fogbound under its 35,000 feet of Zero Visibility is just the kind of O.D. it's difficult not to succumb to in these dark Winter days. Again, the motherfuckers at Crucial Bliss (www.crucialblast.com) have scored big-time with this truly epic release.

REVIEW FROM MONTREAL MIRROR: It's no wonder Montrealer Martin Dumais (of les Jardiniers) inked a deal with the highly respected Crucial Blast label for this solo project, as this very limited release knows when to pulverize and when to let off of the gas with some great psychedelic flourishes. The maelstrom of noise on the title track sets the mood perfectly, weaving a tapestry of sound that sets the pace for the crushing seven tracks here. If you dig Sunn O)))'s power drones and Keiji Haino's vistas of violent frequencies, this should be right up your alley. With only 300 copies released, better snatch this one up quick.

REVIEW FROM AVANT-GARDE METAL: From Montreal - Canada - I recently discovered an artist whom I thought everyone interested in extreme/experimental and noise/ambient music should get acquainted with. Martin Dumais, aka AUN, before turning into the twisted sound wizard he has become, was also secretly active in Montreal's underground techno, tech house and downtempo scenes, for example with his band Les Jardiniers (The Gardeners). But back to our business, his last album Multigone has just been released by Crucial Blast, and it definitely has something strongly atmospheric going on, as Dumais is handling guitars, bass, violin and electronics altogether, to create a borderline ambient/metal majestuous piece of work. The first two tracks Multigone and Consumed by Flies are massive, heavy, drone-dirge, epic fire brails of alienated textures. Both songs might as well burn your brain and leaves you breathless and self-consumed. If you ask me, this doesn't only bears the mark of an extreme noise take on volcano drone metal, but it also, like on the magickal Steel Skull Plain, investigates through surrealistic and psychedelic dark industrial ambient figures. It's limitless music so to speak or as to breeze out unclear - whatever linguistics you prefer. Surprisingly, next song Stables sounds like backward Stoner rock on ecstasy. Its very fluid like, and yet the badass rocking feeling is all over the place and growing more and more weirded out. And as the song is dissolving, Halfmoon Halfchoke takes the next lead and shines through its shimmering, blazing, fuzzy, slumbering, drony, hypnotizing, blissed-out, foggy and celestial ambient ascension. Palejoy then exposes a more beatlord side of AUN, and I must say I'm quite impressed: at some point, I was even thinking to myself that this was like some kind of Psyche Doomic Trip Hop or something. The guitars sound saturated, eerily industrial, reminding me of a rusty, bubbling, phosphorescent mire, while the deep bass line groove underneath is perfectly assembled in a way you can't resist to head nod along the strong atmosphere. Last song Kwelbo Krong goes back to more noise territory covering, which includes many other extraterrestrial influences. Add to that a very oppressive quality within the guitar noise riffing and it easily gets both overloaded and meditative at the same time. Contradictio? None at all. Extreme music the way AUN does it basically crosses, sometimes many, sometimes quite a few dense and highly compacted emotions against each other, to the point where it just feels naturally encompassing. From zero to infinity, I might easily say that Multigone, as an album, conveys and maximizes the darker spirits of Extreme metal, while actually keeping up with psychedelism in sculpture and avant ambient/noise in texture and genre. With this album, Dumais really captured an organised, organic and otherworldly vision, only to let us experience its spectral liveliness. By the way, Multigone is limited to 300 copies so in case you would want to experience it at home, act fast! And for those who would enjoy discovering the specifically drone/ambient side-brother of AUN, way more minimal than what I described in this review, I suggest you click on the record's name, if you want to download the free four songs mp3-album FIELD, which was released by Clinical Archives in 2007. This hasn't made as much an impact on me as Multigone did, but it's another facet to AUN's unpredictable art.