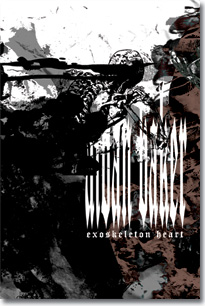 BAKER, AIDAN Exoskeleton Heart CD-R
BLISS23
$6.50


track listing
1. Interior ::MP3 EXCERPT::
2. Anterior ::MP3 EXCERPT::

Following up his amazing Periodic disc that was issued through Crucial Bliss two years ago, acclaimed Toronto drone-guitarist Aidan Baker is back with Exoskeleton Heart, his newest entry into our ongoing Crucial Bliss series. And this 2-track, hour long excursion into deep feedback bliss is stunningly beautiful. Split into two halves, "Interior" and "Anterior", Baker once again taps into his visions of the bodycage using only his electric guitar, performed and recorded live; the result is an evocative feedback-heavy dronescape drifting with the gritty hum of the amplifier, layers of shimmering, chiming feedback, crushing distorted ambient dirge that borders on Sunn O)))-levels of sonic weight, and shafts of elegiac melody breaking through the stormclouds of Baker's cavernous rumbling like rays of sunlight. Aidan Baker is without question the North American counterpart to the Tuetonic guitar drones of Troum, and Exoskeleton Heart delivers some of his most massive, meditative, crushing, and beautiful subterranean drift yet. Hell, the final 10 minutes of "Anterior" is without questions one of the most beautiful things we have ever presented through this label, an angelic glacial melody that builds inexorably into a wall of blissed out fuzz a la something you'd expect from Aidan's dronesludge band Nadja. Essential. The disc comes in a full-color signature Crucial Bliss foldover sleeve with the disc affixed to a plastic hub on the interior of the sleeve, and has been pressed in a limited edition of 300 copies.